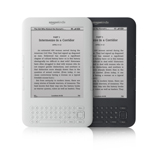 Hôm nay Amazon công bố thế hệ mới của thiết bị đọc e-book Kindle, các mô hình mới  21% nhỏ hơn, nhẹ hơn 15%, 50% tương phản tốt hơn. Kindle với WiFi + phiên bản 3G có giá 189$ và phiên bản WiFi có giá 139$. Có hai màu trắng và xám đậm cho các bạn lựa chọn.
Today Amazon announces a new generation of its e-book reader, the new models are 21% smaller, 15% lighter, 50% better contrast. The WiFi + 3G version is priced at $189 and the new WiFi-only version is priced at $139. Both White and Graphite colors are available
Highlights:

All-New, High-Contrast E-Ink Screen – 50% better contrast than any other e-reader
Read in Bright Sunlight – No glare
New and Improved Fonts – New crisper, darker fonts
New Sleek Design – 21% smaller body while keeping the same 6" size reading area
15% Lighter – Only 8.7 ounces, weighs less than a paperback
Battery Life of One Month – A single charge lasts up to one month with wireless off
Double the Storage – Up to 3,500 Books
Books in 60 Seconds – Download books anytime, anywhere
Free 3G Wireless – No monthly payments, no annual contracts
Built-In Wi-Fi – In addition to the 3G wireless, you can connect to Wi-Fi hotspots
20% Faster Page Turns – Seamless reading
Enhanced PDF Reader – With dictionary lookup, notes, and highlights
New WebKit-Based Browser – Free 3G web browsing (experimental)
[youtube]http://www.youtube.com/watch?v=z9XTgmcfSTQ[/youtube]
Video link
Amazon will ship to customers in over 140 countries and 30 territories beginning August 27. Available for pre-order HERE!