Barnes & Noble công bố một máy sách điện tử e-Reader mới có màn hình màu có cảm ứng, sử dụng hệ điều hành Android. thiết bị được gọi là NOOKcolor.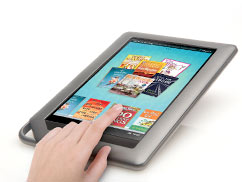 Màn hình 7" có hổ trợ tính năng VividView ™ với hiển thị hơn 16 triệu màu . Công nghệ này tối đa hóa khả năng đọc của LCD backlit trong khi giảm thiểu độ chói.
Độc giả có thể tải về hơn 2 triệu cuốn sách trên WiFi, trong đó có một triệu cuốn sách miễn phí, sẵn sàng để tải về ngay lập tức và bạn có thể thử sách miễn phí trước khi mua.
Ngoài ra, thiết bị nầy còn lên mạng Web, chạy ứng dụng Pandora, nối kết với mạng xã hội Facebook, Twitter,..V.V…
Giá bán là 249 USD, bắt đàu giao hàng vào ngày 19-11. Today B&N book store introduces a color version of its e-Reader Nook, the device is called NOOKcolor.
The 7" screen device features  VividView™ Color Touchscreen to display more than 16 million colors and adds an extra wide viewing angle for personal or shared reading. The technology maximizes readability of backlit LCD while minimizing glare.
Readers can download over 2 Million books over WiFi, One million FREE books are ready for instant download and you can sample books FREE before you buy. Most titles are $9.99 or less and are ready to read in just seconds.
NOOKcolor is offering all your newsstand favorites in rich, full color. From Us Weekly and Elle to The New York Times and The Wall Street Journal – NOOKnewsstand delivers your morning paper and latest magazines right to your NOOKcolor, ready to read in an amazing new way.
B&N introduced kids' picture books with their NOOK kids reading experience. Exclusive Alive Touch technology lets your child interact with words and pictures, easily find a favorite story, even have it read aloud. Enjoy classic favorites and the most popular new releases.
B&N carries forward its LendMe technology allowing to swap books with friends. Users can also recommend reading as well as pass along favorite lines to friends through Facebook or Twitter.
Other features include Web surfing, In-Store 1-hr free reading, Crossword Puzzles, Sudoku, Chess and Pandora internet radio…
The device is measured 8.1 x 5.0 x 0.48 inches  and weights 15.6 ounces. can store up to 6000 books/ magazines/ newspapers and cost $249 (free shipping). Shipping Nov 19.
The black & white version is still on sale at $149.